For those who have yet to see it, please read 'Collision' from my Simfic50 if you're lost. Think of it as a pre-Intro Intro. It was my stepping board into Angel of Lies way back when.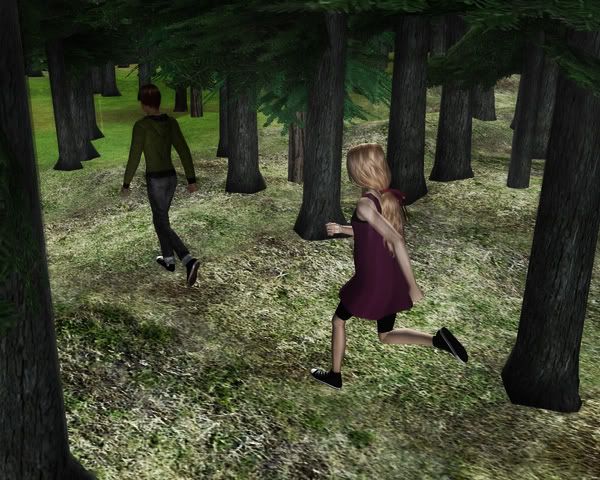 How long had they been running? It was a question that would long go unanswered. Hours felt like days and days like weeks. How long ago had it been that Virgil had come across the fallen Eva, her body collapsed and seemingly lifeless against the foreign plants and trees? Despite his misgivings about her state, she woke and since then, they had traveled together.
Now they ran through the ran, seeking shelter, the muddy, wet ground beneath making grotesque sucking noises. It had been raining for what seemed like days, with no sign of it ending. The wet, soggy forest emitted a fragrance of pine needles and mold, the two combining into a mixture that turned both their noses.
Virgil couldn't estimate how much time had passed since the amnesiac Eva had joined him in his journey. He only knew that it took her several days to recall her own name, aided by the fact that it was etched clumsily into the back of the pendant that hung about her neck. Other than that, she was clueless. She would speak often of her father, but had no name, nor true description to put forward.
Now he was following her whim that there was shelter nearby. She seemed innately powerless in every way, so Virgil questioned why he trusted her to lead. His mind reasoned that they really had nothing to lose at this point. So he followed her directions, as bizarre and vague as they had been. He was beginning to lose hope when he saw a small building in the distance, lost amidst the trees and looking completely out of place. Shelter, finally.
"Are you coming?" She shouted back, she had passed him, her sneakers kicking up mud and grass as she ran. Virgil wondered how she avoided slipping, he'd nearly broken his neck several times today alone.
A reply wasn't needed, he simply picked up the pace and half-jogged to join her. She was young, but her appearance was severely deceiving. She was only a few years younger than he was. He vaguely wondered if her amnesia had something to do with her… unusual disconnect from her own age. Another possibility was that she had just been sleeping that long, but that seemed impossible.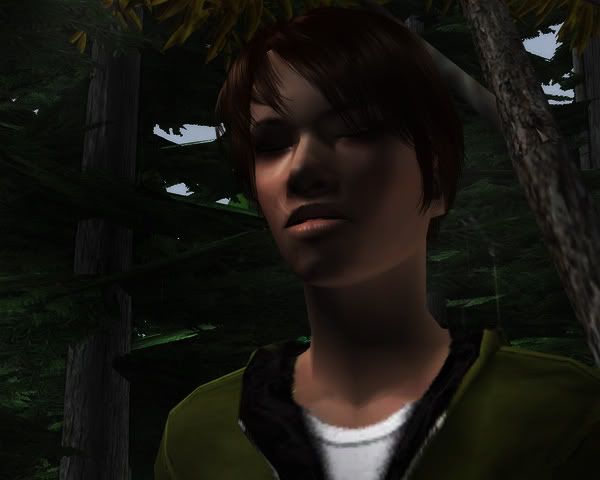 Virgil stopped suddenly, a sensation overtaking his body, causing it to tremble. He forced his eyes closed, willing it away with every strength he had left. It subsided, though the tremors remained awhile, causing his fingers to twitch and his feet to move uneasily beneath him.
He scarcely heard Eva calling out to him, her soft voice a distance ahead, standing before the cottage. He looked at her, focusing on her silhouette, assuring himself that it was all right. In the back of his mind, he wasn't so sure. More and more, he fought it off, but it always came back, and each time it seemed to gain strength.
"Virgil? Are you okay?"
"I'm fine," he offered gruffly, moving to join her. His voice sounded foreign to his own ears, still trembling with preternatural force. "How did you know this was here?"
Eva shrugged and simply stared up at it like a child, wonder obvious on her face. Water streamed down off the hastily put together roof and the bricks were uneven and moldy. Still, it would be dry and hopefully warm, certainly better than what they'd become accustomed to the last few days.
"I just knew," she said finally, moving to the door. Before Virgil could protest, she unlocked it. "Let's go in."